In recent years, you've probably seen the concept of "Modern Workplace" more than ever. What does it mean to work in a modern workplace? How can my organization modernize in the digital age? We're here to answer these questions and more.
What is a Modern Workplace?
The workplace is no longer confined to a traditional office building. With rapid advancements in technology, remote work has become a norm for businesses around the world. The idea of digital transformation and leveraging technology to drive innovation and efficiency is at the center of the modern workplace. It emphasizes flexible collaboration and productivity through the use of cloud-based tools and automation. The overall goal of a modern workplace is to foster a work environment that adapts to the needs of the business and its employees.
How can my business embrace the Modern Workplace?
Microsoft provides all of the products, services, and tools necessary to enter the modern workplace. From here, we'll go into the different areas in which Microsoft can help your team embrace digitalization.
Communication & Collaboration
Microsoft 365, formerly Office 365, is a suite of tools that enable teams to increase productivity and work together from anywhere. A key member of the suite is Microsoft Teams, a communication hub for organizations. Chat, call, collaborate on documents, manage projects, and more – all in Teams. With other apps in Microsoft 365 like Microsoft Word, Excel, Outlook, and PowerPoint, users have access to a set of connected productivity tools. These applications seamlessly integrate with Microsoft Teams, allowing for a unified and efficient work experience.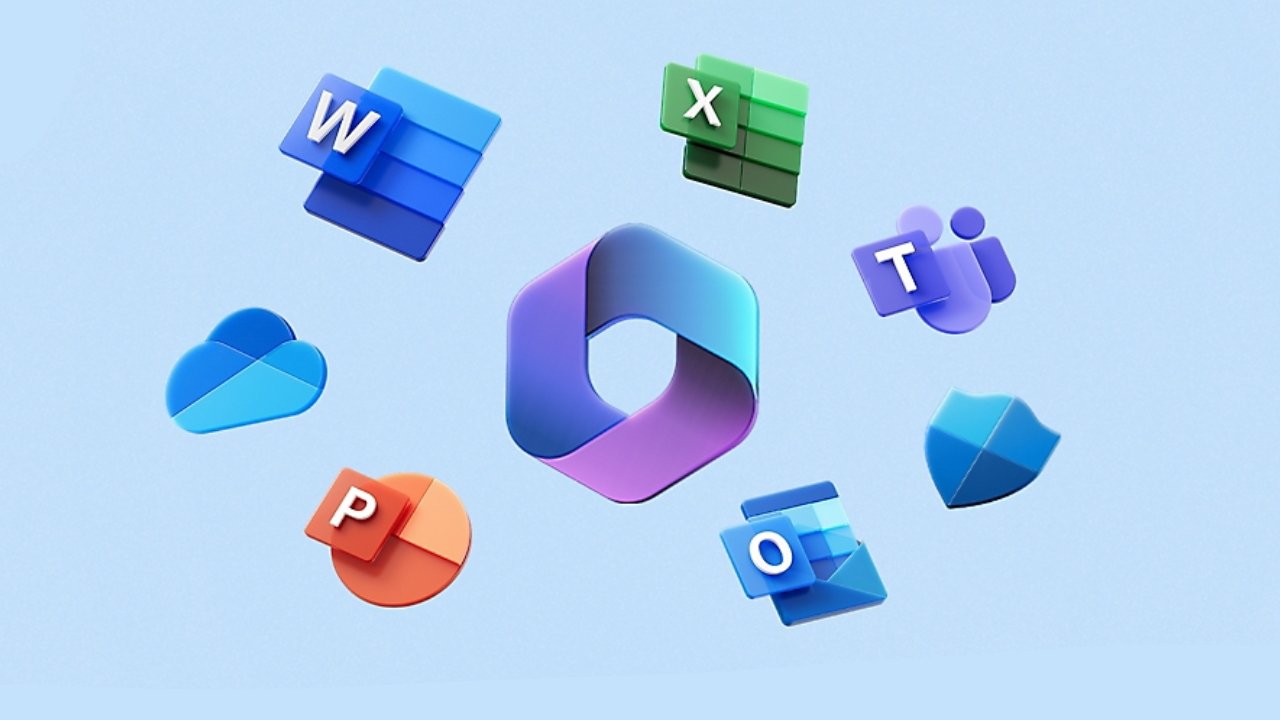 Source: Microsoft
Access & Mobility
In a modern workplace, the ability to work from anywhere on any device is crucial. Microsoft's cloud-based solutions like Microsoft Azure and Microsoft SharePoint enable employees to access their files, applications, and communication tools on the go, ensuring productivity can happen outside of the office. Synchronization across devices is no issue with Microsoft, either. You'll be able to start a project on your laptop, make tweaks from your tablet, and review from your phone without missing a beat.
Source: Microsoft
Intelligent Insights
Microsoft has been using artificial intelligence (AI) to provide critical business insights. Microsoft Power BI utilizes AI to create interactive visualizations and data-driven insights, enabling organizations to make informed decisions quickly. Utilizing AI in a modern workplace opens new opportunities through the automation of repetitive tasks and optimization of workflows.
Enhanced Security & Compliance
Cybersecurity threats are on the rise. Microsoft prioritizes security by embedding robust protection measures throughout its offerings. Features like Microsoft Defender and Azure Active Directory help organizations defend against threats, manage identities, and protect data across devices and platforms.
Source: Microsoft
Continuous Innovation
We previously mentioned that adapting to the changing needs of your business and team is essential in a modern workplace. Microsoft is constantly researching to discover the latest needs of its users and frequently releasing new features to enhance the modern workplace experience. Additionally, Microsoft's extensive ecosystem of partners and third-party integrations enables organizations to tailor their modern workplace solutions to their unique requirements.
Where should we begin?
Digital transformation begins with Opal Business Solutions. We are a certified Microsoft Partner with experts who are ready to help you adopt a modern workplace! We provide efficient, cost-effective business solutions using existing technology. Schedule a meeting with our Modern Workplace team to start your transformation!